Dear Father
I again take my Pen to write you a few lines although nothing of any interest has occurred since I last wrote but I promised you to write often and I always shall when convenient.
It is real cold today and I can hardly use my Pen my Fingers are so numb as you will see by the writing. you would call it fine weather at home, but it comes hard on us. some days it will be uncomfortably warm and the next as it is today. some nights water will freeze in our Tents and form Ice ¼ of an inch thick but we are getting use to such treatment and console ourselves by thinking that it's all military. Great consolation.
Day before yesterday There was a great fire about 5 miles from here on the other side of the river and the wind blew the Smoke & Cinders over our Camp making it look like a Snow Storm. on the large Sugar Plantations, they always burn the dry Stalks at once & in one large pile and when we came up the River we saw the large pilis some of them on Fire. if the wind had not changed the cinders would have been half an inch deep. John Crossman said we'd ought to have the Old Hydrant1 out.
We had the best time playing Ball yesterday that we have had since we came out. we played from 1/2 past 12 untill 4. Charlie Hunt, Crossman & the Milton Boys were on our side & we shall make quite a business of it after this. I remember how I used to see them play on Boston Common & perhaps it made me feel better to hear the Bells strike one and go back to the old prison of a Store.2 you couldn't blame me for being a little down sometimes could you? If it wasnt for you, Mother & the little ones. I had rather stay here & live as I do now than go into Boston but we are having good times now that will not last long and we shall wish ourselves somewhere else before we get through with Uncle Sam.
We live better now than we ever have before partly owing to our new Cooks Then we can buy Butter at 40c per pound & Milk 10c per Qt which is rather dear but helps us along considerably How do you live this winter? I suppose the same as ever only in the Setting Room or Parlor which would seam rather odd to me. They say a Soldier cant sleep on a Feather Bed after he gets home. at least for 2 or 3 nights I dont know how it would effect me but I should like to try it
I want you to get one of those Books on the State Agriculture by Flint such as I got for the last two years & write me if you do. for I want it for myself if you dont. now dont fail to get one or have Joe Churchill3 get one for you. About that 2.00 that Gannett got for us. you can give him a receipt & appropriate it for your own use.
I was over to see Lute this morning and found him in good Spirits but very sick. the surgeon told me he was better but would be sick sometime. there are quite a number sick in our Company of the same disorder from a change of Climate. Charlie Moulton4 is in the Hospital & has been very sick but is much better now & Charlie Thayer is not well. all the rest of the Milton Boys are quite well. I shall be glad when Lute gets well for I feel lonesome without him but I can see him 2 or 3 times every day, carry him things. & see that he has the best of care. Abraham Holmes from Milton is head Steward and Lute likes him very much. he has given him a good bed & all he asks for. I shall write often about him untill he gets well. he sends his love & sais you must not worry about him.
The New York 116th left here yesterday for Baton Rouge & it is rumored that we shall go down to New Orleans & do Guard Duty. The Boys dont like it, but that wont make any difference
We dont get much if any news and you must send a Paper when there is any. Give my respects to Mr. Daniels & tell him I should be glad to hear from him. Tell Aunt Martha I got her letter & will soon answer it. Give my love to Mother & all tell them to write. You must write too & then I will write a long answer
From your dutiful Son Henry
P.S. I hope this year will fly away as fast as it has for the last month
Hen
---
1Old Hydrant: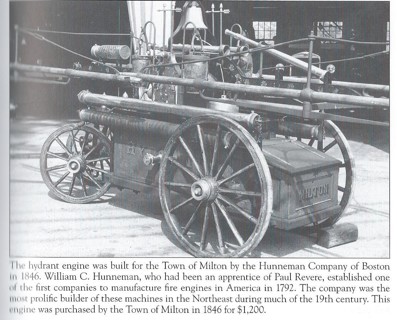 Photo caption:
The hydrant engine was built for the Town of Milton by the Hunneman Company of Boston in 1846. William C. Hunneman, who had be an apprentice of Paul Revere, established one of the first companies to manufacture fire engines in America in 1792. The company was the most prolific builder of these machines in the Northeast during much of the 19th century. This engine was purchased by the Town of Milton in 1846 for $1,200.
2old prison of a store: Henry writes frequently about his employment/employer. In his first letter 28 August 1861 he refers to himself as Henry the Boston Music Clerk. He worked for Oliver Ditson & Company, music publishers, of Boston. The firm was located at 107 Washington Street, Boston.
3Joe Churchill: The Honorable Joseph M. Churchill was a prominent Milton resident and a captain in the 45th Mass Volunteers. His residence was on the Honorable Asapha Churchill estate near the corner of Adams Street and Churchill's Lane. Henry's father, Luther, is sometimes listed as a laborer/farmer on census records and may have worked on the Churchill's estate.
4Charlie Moulton: Charles H. Moulton was a cousin of Henry's. He was from Acton and received a Milton bounty but was not counted upon the town's quota.