Dear Father & Mother
As this might be the last opportunity of writing which I shall have, I will write a few hurried lines to let you know our present circumstances. We are now on the eve of a great Battle and expect the order "fall in" every moment. To say we are all anxious for the fight is true for we know it has got to be done & the Rebel stronghold reduced sooner or later although many will fall and perhaps myself, but it will be doing my duty. I never felt better in my life and all the Boys are improving in health for we are in a delightful place, on a Bluff or hill which is the first I have seen since I left Baltimore The place was held by the Rebels when Com Faragut came here & the State House was Shelled & fired by the Rebels as they retreated. It is the largest Brick Building I ever saw & the grounds are laid out in style. I will send some Flowers I got there this Morning with Walter Bradlee.
We went inside the Building but were afraid of the falling Brick
Tell John Pat Rooney is here on the Signal Core, Gen Banks Head Quarters are opposite ours and the Street is alive with fast and Splended Horses. Artillery, Batteries, & Cavalry are on the move and already several Brigades have left. I should think we had 30,000 Men here in all. The Sunday we arrived the Rebels drove in our Calvary Pickets but they always have exchanged Papers & acted quite Friendly.
The River was full of Gunboats & Mortar Boats when we arrived but some have gone up. I saw the Iron Clad Essex which has done the Rebs so much damage. she is a queer looking Machine.1
Capt Badger is here and looks starving. it would do Father good to see the Riding. I suppose you have heard from Luther since I wrote last. I was very sorry he was not well enough to go with us but it's all for the best. I would write to him but he would not get it. I gave him my Watch but I may pick one up between here and Port Hudson. Berry is well & all the Boys want to be remembered send up word that Walt is well & also Charlie Hunt, Nye, Crossman & all the Milton Boys. Give my love to Johnny Hattie, Carrie & little Charlie & tell them not to forget Henry for he thinks of them and you all very much. dont worry about me for it wont do any good but hope for the best.
I have got a pair of Boots and a light Knapsack & every thing I need so I guess I can rough it with the next one. I shall write as soon as possible & if I dont the rest will so if we stay a few days longer you will know how things look.
I have several Letters to answer but cant spare the time now Write as soon as you get this & direct to Baton Rouge.
From your dutiful Son

Geo H. Moulton
---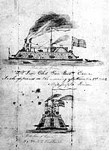 1Iron Clad Essex: The regimental history also records the arrival of the USS Essex on March 11, 1863 at Baton Rouge. Henry added a small sketch of the vessel in his letter — identifiable with this sketch by William Philbrick, Carpenter's mate, done from the deck of USS Portsmouth as the Essex appeared 1 November 1862 on the Mississippi River.