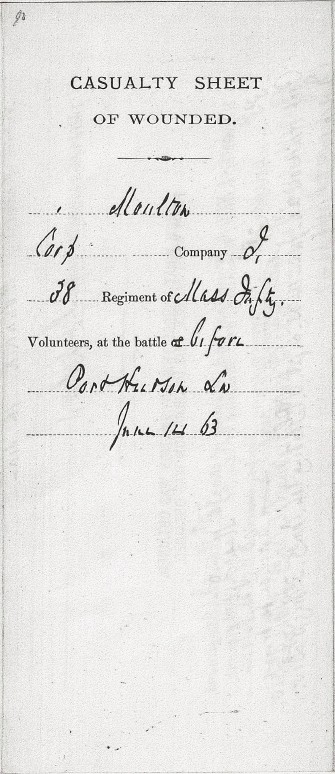 June 14, 1863
Major Richardson's report of the 38th's action at Port Hudson continues:
The next morning, on the 14th, at daylight, our regiment was deployed as skirmishers, and, under the lead of Gen. Paine, went forward on the double-quick, under a very severe fire from the enemy. We reached the ditch and some of the men crossed it; one got inside the works and was taken prisoner. We took position where we could beat away the enemy and compel him to keep concealed behind his works, and waited for the storming column, which was to follow us, but the column did not come and we remained under the works all day, subjected to a broiling sun. At night we were ordered back to our camp. Our loss in this affair was, commissioned officers, 1 killed and 5 wounded; enlisted men, 7 killed and 77 wounded, and 2 missing.
On the 19th, the regiment was again sent to the front, to support Battery F, where it remained until the surrender of Port Hudson on the 8th of July, during which time 2 men were wounded.
As you can see from the outside of the casualty record at right (click on it for the inside), Henry was one of the wounded this day. The casualty sheet was filled out in 1885 as a part of Henry's Consolidated Military Service Records, the clerk citing his source in detail on the inside: "'Report of Killed, Wounded, and Missing of the 38th Mass. Regiment, 3d Brigade, 3d Division, in action before Port Hudson, Louisiana, June 14, 1863,' dated June 16/63. Signd. O. P. Gooding Col. Comdg. [commanding], 3d Brig. 3d Div. (Index 17th No. 133 pg 4)."
From the National Archives' pension files, Dr. Edwin Ward provides a little more information: "on June 14th, 1863 he [Henry] was wounded by a bullet in the left side, while in action at Port Hudson, La, and was then sent to General Hospital at Baton Rouge La."
We'll wait now for Henry's July 2nd letter.
Mike Doyle, Historian
Milton Historical Society
with Steve Kluskens
---