3rd Ward U.S. General Hospital
York Penn
October 22nd 1864
Dear Mother
Again I will send you a few lines and tell you that I shall probably be at Readville sometime next week. There was an Agent, from Boston, here yesterday and our Head Surgeon said he could not get us off for a week & I will add perhaps not for 2 Weeks so you needn't expect me at any particular time.
It is a cold and very stormy day but we have two large Stoves in full blast & are quite comfortable. I was out a short time this morning but had to come in; somehow the cold takes right hold of me and I long to get well rigged out with Gloves, Boots & C. Readville is a pretty cold place and I suppose you begin to feel the approach of Winter. I long for it to be over with, almost wish to be back in Louisiana untile Spring but the 19th Corps will never go back there.
You may believe I was pleased to hear of the Sheridans last victory He was born in Boston & was a News Boy: Gen Grover was wounded I can see him now: a fine looking Man from Maine to. New England has sent some good Men into the Field:1
I shall be glad when I can be with & talk with you all. It seems to me now I cant with hardly anything but I've got enough in me & will let it out one of these days. I am obliged to Lizzie C. for remembering me I thought she was mad with me: dont tell her that but give her my Love.
I drew some Shoes yesterday: they expect a large lot of clothing soon but that's an old story: Uncle Sam is rather behind time in this Dept. "to much Red Tape" as usual.2
I hope you will all write again soon for I love to hear from you all. Give my Love to Father, John and the Girls accepting the same from your Aff. Son
Henry
P.S. Have you heard from Lute lately: where & how is he, strange I cant hear from him:
Hen
---
1 "Sheridan's last victory" refers to General Philip Sheridan's stunning victory at Cedar Creek where, according to General Grant, he arrived in the nick of time to turn "a disaster into a glorious victory." From Harper's Weekly — 5 November 1864:
LETTER FROM THE PRESIDENT TO GENERAL SHERIDAN.
The following is a copy of a letter addressed to General Sheridan by the President:
" EXECUTIVE MANSION, WASHINGTON, Oct. 22, 1864. "MAJOR-GENERAL SHERIDAN,—With great pleasure I tender to you and your brave army the thanks of the nation and my own personal admiration and gratitude for the month's operations in the Shenandoah Valley, and especially for the splendid work of October 19. Your obedient servant, ABRAHAM LINCOLN."
Sheridan's birth state is not certain. His parents lived in Massachusetts a few months before removing to Ohio. Other sources place his birth, 6 March 1831, in Somerset, Ohio, and Sheridan himself claimed he was born in Albany, NY. He died of a heart attack at his summer cottage in the Nonquitt section of Dartmouth, MA. Before enrolling at West Point he is reputed to have been a clerk at a dry goods store in Ohio.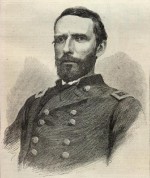 Cuvier Grover (at right), born in Bethel, ME, was a Civil War brevet general serving in Sheridan's Army. He lost an arm leading a charge at Cedar Creek, October 19, 1864. A graduate of West Point and career officer, he remained in active military service after the war and died in 1885, while on military leave. He is buried in the U. S. Military Academy Post Cemetery.
2 Some evidence of the "red tape" has survived: a receipt in duplicate for that "(1) One pair Shoes," signed by both Henry and the surgeon in charge of the hospital (SJW Mintzer, mentioned in Henry's Oct 19th letter).  The receipt was among the "personal papers" inserted in Henry's Consolidated Military Service Records at the Adjutant General's Office, and now preserved at the National Archives.
Previous
Index
Next