The New York Branch of
The U.S. Christian Commission
I Co 38th Regt 2nd Div 19 Army Corps
Morehead City N.C.
March 29th


Dear Mother
I have just recieved your kind letter of the 22nd and being the only one recieved for a Month is quite welcome as also Hatties: I am sorry I frightened you so about my thumb: why: I guess you didnt sleep much that night. I did and when you heard of it it was forgotten by me. I have been opening Oysters lately with my Knuckles but I guess you dont know about that: most any of the Boys here could tell you:
I dont know that I have much news to write for we are all well in good Health and enjoying ourselves as usual: For a few Days the Boys have had great times playing Ball: I have not played for I have had considerable Reading Matter of late: I actually think after the latest northern News and when there is a late Paper in Camp I am pretty sure to get it. The 18th is the latest Journal1 I have read and the N.Y. Herald of the same though there are later in Camp. I hope I shall get some Papers from Lute soon:
I have just been out for "Rushes" to spread on the bottom of my Cabin: Berry came along, singing out "Moses" in the Bull Rushes" He is a great Friend of mine and we are just like Brothers: what's mine is his and visa versa: we are always interested when one hears from Home.
So Carrie has been sick "the little Dear" I am real sorry but hope she will take good care of herself and get well soon: I hope I shall hear from her by next Mail "any way" I will write to her very soon.2
We are having quite cool weather now for this time of the Year. I should think and should be expecting something different soon. So you begin to feel the Spring weather: may it come and go quite as pleasantly as has the last Winter to me. The time just flies with me and its because I have something to do all the time: Last Sunday we had quite a large fire just inside our Line and there was a great Stampede from Camp about that time: By passing water in Buckets we managed to save several Buildings around the "Fated one" among them our Brigade Head Quarters and the Provost Marshal's Office: Crossman was on hand and could act out Johnny McWhirk3 when the Hydrant "I's" were comin and there was great squirtment of Water.
Some of the Boys "Foraged" from the Quarter Masters Stores: I can forage Sugar and Hard Tack with a relish and on a pinch might forage the Sutler's Stove at such a time. but Axes and Hatchets aren't worth it. You ought to have looked in on me yesterday and seen me darning my Socks, woolen Drawers and mending up generally. I'm getting quite expert with the needle but have to fall back on Berry for thread and Dan for Yarn so you will please send me a Box — needles full's of Black Thread some of White & in another a little Yarn and Darning Needle pricks my finger some time and when I push pretty hard the other end goes in some times but I guess I shant send for a thimble: I dont intend to do my mending always:
We have recieved good news lately from the North of Sheridans bold move We have him here now on Shermans left: I am anxious for the practice as I suppose you have read the acct. of the Kingston affair: and of Shermans fight: We shall get it all sooner or later but the sooner the better:
I hope this will find you well also Father ad the rest: Give my Love to him to Lute & Johnny and accept the same from your Aff. Son
Henry
I will write again soon & hope you will all do the same
Hen
---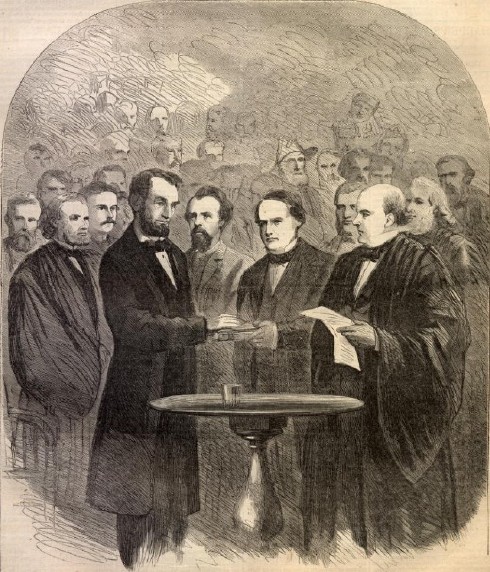 1 The cover of the March 18, 1865 edition of Harper's Weekly Journal was of President Lincoln taking the oath at his second inauguration, March 4, 1865.
2 'Carrie...the little Dear' (Henry's youngest sister) had consumption — a wasting away of the body — a disease now called tuberculosis. She died August 30, 1866 in the "eleventh month of her fourteenth year."
3 Johnny (John) McWhirk (also spelled McQuirk): The Milton Hydrant Co. Log Book states: "An alarm (September 4, 1861) of fire at the house of John McQuirk near Milton Centre.  The Hydrant was on hand and did all the service which the supply of water afforded but the building was destroyed."  McWhirk lists his occupation 'farmer/yeoman' on the 1855 & 1865 census. He was from Ireland and had children from two marriages.  Two sons, James and Alexander, fought in the Civil War.  James appears on Teele's Civil War list of soldiers as James 'McQuirk', enlisting from another town (Dorchester) but now residing in Milton.  About 1893 Thomas S. McQuirk appears on the rolls as a member of the Milton Fire Department.  He was another son of Johnny's, born 1867 in Milton and married there in 1891.  He lived at the corner of Quarry Street and Randolph Avenue.  Thomas's mother was Sarah Harper; she was 40 years younger than her husband.  Johnny died 1873 at the ripe old age of eighty-four.