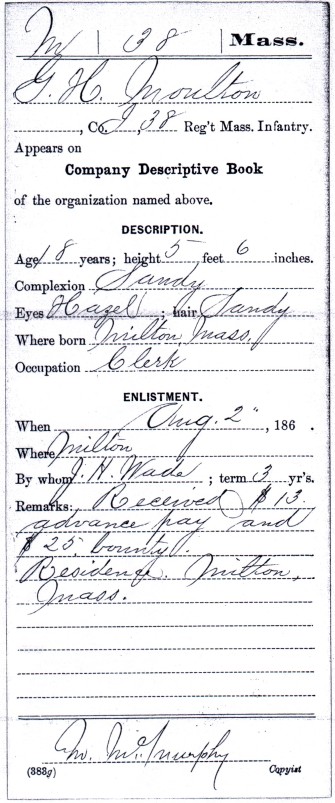 [Actual size, but you can click to enlarge.]
August 2, 1862
It was a Saturday, and Henry Moulton was home in Milton from his job as a music store clerk in Boston. That day, like many other young men, he enlisted in the U.S. Army.
The last you heard about Henry was almost a year ago, in our fall 2011 newsletter. It was his seventeenth birthday, August 28, 1861, and he was writing from Milton to his mother, who was visiting relatives in Maine. Though Fort Sumter had been surrendered four months prior and the bloody battle of Manassas fought the previous month, the country was not yet consumed in the all-encompassing conflict we think of as the Civil War.
By the following summer of 1862, though, it was clear that the rebellion would not be put down easily. July 4, President Lincoln called for 300,000 troops to be recruited. The war was certainly on Henry's mind by that time. Though still four weeks shy of eighteen, he signed up in Milton, 150 years ago today.
The document at right comes to us via the dedicated staff at the National Archives in Washington, D.C. Despite all that Henry's letters tell us about himself, his physical appearance and likely eagerness to enlist only come to us from the notes of the recruiter, transcribed in the 1880's into the form at right. The accuracy of the physical description — 5'6", hazel eyes, sandy hair and complexion — helped detect the profitable, but capital, crime of collecting multiple bounties by enlisting at different towns (note the $38 Henry was paid at enlistment).
Henry's first letter home doesn't come until September 18 — regimental history indicates they mustered the recruits August 24 — and he doesn't reflect then on his feelings at enlistment. However, Henry's slightly inflated years on the enlistment record suggest the age-old eagerness of a boy to be a soldier. Henry responded to the President's call even before he was eligible, so he probably wasn't dragging his feet through the month of July, but rather eagerly awaiting August when he would be close enough to 18 that it wouldn't matter.
Finally, appreciation of this document must be extended to General Fred C. Ainsworth, who is responsible for its creation, a boon to 18th- and 19th-century military researchers. You'll be seeing more of Henry's Compiled Military Service Records, so take a moment to read this article by one of our members about how the CMSR's came about: "Thank you, General Fred C. Ainsworth!"
Mike Doyle, HistorianSteve Kluskens, Curator
Milton Historical Society
---