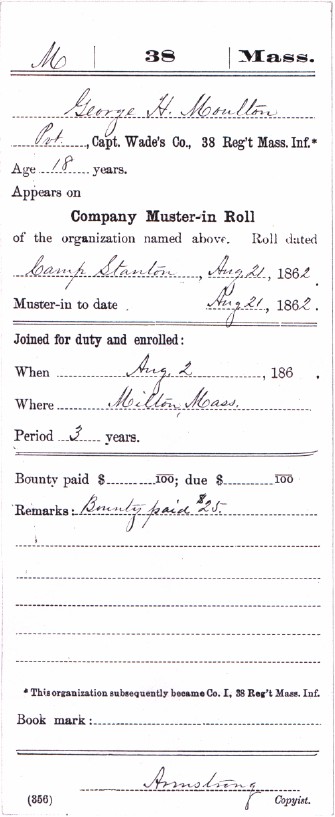 [Actual size, but you can click to enlarge.]
August 21, 1862
Thursday. Leaving behind his life as a music store clerk, Henry Moulton arrived at Camp Stanton in Lynnfield to join the 38th Regiment, Massachusetts Infantry.
The camp was bustling with new recruits pouring in and preparing to move to Baltimore by the end of the month. There were twenty-seven other "Milton boys," as the townsmen referred to themselves, including Henry's older brother Luther and cousin Charles. Luther had just turned twenty; he's the "Lute" Henry mentioned in the letter you read from the previous summer. Henry's company became Company I, representing Milton, Dedham, Medway, Wrentham and other towns. Within three days, the 38th was fully mustered.
Recruitment had accelerated after Henry signed up August 2nd. President Lincoln had issued another call for troops — 300,000 more — on August 4th. Unlike the earlier volunteer recruits, these could be raised by draft if necessary, with just a nine-month tour of duty.
Again, we're looking at the hand of one of General Ainsworth's copyists on the right. In the 1880's or early 1890's, Armstrong (see the bottom of the document), transcribed what was most likely a single-line entry in the company's muster roll. Besides dating Henry's arrival at Camp Stanton, it helpfully corroborates the date of Henry's enlistment with Murphy's bold hand on the previous record we examined. Further, we see that Henry's age is still a little advanced, his 18th birthday just a week ahead now.
By copying information from the enlistment and muster books to these cards, the service records particular just to Henry could be gathered in a single envelope. This was crucial for researching pension claims after the war, and the fifty-eight million cards ultimately created — sorted by individual soldier — from Revolutionary War records to the turn of 20th century, are still crucial to researchers.
You can learn more about the Compiled Military Service Records at the National Archives in five short articles written by Claire Prechtel-Kluskens for the National Genealogical Society Magazine. The series describes the Civil War records available at the National Archives in greater detail and how to access them, while noting the stories of just a few soldiers represented there, including our Henry.
Mike Doyle, HistorianSteve Kluskens, Curator
Milton Historical Society
---