Fortress Monroe
Nov 15th 1862
Direct to Fortress Monroe
Steamer Baltic1 put in the corner
Forward to the Reg
Dear Parents
As I have not had a chance to mail my first Letter. I thought I would write a few more lines and let Lute fill it out.
The boys went ashore yesterday but as Lute and I were on guard we could not go but shall go today.
I wish we could be free from guard but its all Military. I was stationed at the Wheel House and the 1st Mate gave me the use of the Spy Glasses. I could see the Houses at Hampton Village which was mostly burned by the Rebels and also Sewells Point where they had a great Battery and shelled all the Boats which came where we are now. The Rip Raps2 are about 2 miles from here and are being finished by prisoners and convicts from our Army. They throw Shells at the Merrimac which came out just below here.
There was a Steamer passed us this morning loaded with soft Bread & our Boys began to cheer thinking it was for us but were much disappointed & well they might be for we are half starved as the living we have don't do us any good. Quite a number have sent for Boxes and Lute & I want one as soon as you get this for we may stay here 2 or 3 weeks. Send a good large one & nothing but eatables & that as soon as possible. I have got more in my Knapsack than I ought to have so I must not carry any more in it. I have got all that I need and enough to last this winter.
How should you like to sleep on the hard Plank with nothing under you but your Blanket? We are going to some Bunks made soon but I have got used to sleeping on the Floor so I don't mind it but would much rather sleep on the Ground.
Have you any Idea where we are going? We think we shall go to Port Royal or Texas. I wish we would go to Texas for it will be a long time before the Rebels are whipped on the Potomac and we might get into the Army there. I have had a Letter from Henry Westcott3 who is in the Navy Yard at Washington. He deserted but I don't blame him for he has been in Nine fights and his officers used him awful hard. Our Captain4 is down here now but has been down only twice so much for him, he don't dare to abuse us if he did the Boys would lick him. He is a real Baby & not fit for a Capt. but my room is occupied & I must close. Make up a good box & remember the Seedcakesfrom Henry
As there is room on this page to write a few lines I will stick in little. Did you receive the letter I wrote from here last Wednesday. I received a letter from you the next day and also one from Waltham and as it was entirely unexpected. You may imagine that It was very welcome. I was very sorry that fathers knee troubles him, but hope he will get over it. The men are living more like prisoners than Uncle Sams children. We have been half starved all there has been to eat is hard Bread & Stinking meat & Pork half raw. The Officers were all Paid off in Baltimore & are living in the Cabin at 2.00 per day while they leave their men to shift for themselves. I guess that they will have to do the right thing by the boys, for they have made a great rumpus today. We are going ashore today & may stay here some time. But are Going to Texas I rather think. The reason why we thought a box would be a good thing is because probably we shall be Thanksgiving Day on the way to Texas. so send it - right off. Direct in one corner Forward to the Reg.
---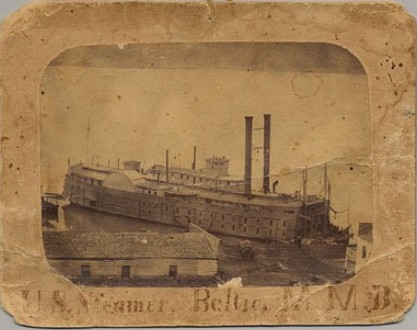 1'Steamer Baltic' — The U.S. Steamer Baltic was a 624-ton, 186 foot long wooden hulled side-wheel packet steamer built in New Albany, Indiana, in 1857 for the New Orleans trade. After the war (1867) it was sold and dismantled in St. Louis.
2'Rip Raps' a fort subsequently known as Ft. Calhoun and still later Ft. Wool. It was the companion to Ft. Monroe and was built on a small 15 acre artificial island in the mouth of the harbor area known as Hampton Roads. It gets its name from the Rip Rap Shoals in Hampton Roads.
3'Henry Westcott', a Corporal in the Mass 13th Vol. Regiment, was 18 when he enlisted at Chelsea, June 1861. On May 5, 1862 he was wounded at Williamsburg, VA. and three month later (24 Aug 1862), deserted near Alexandria, VA shortly before the regiment was engaged in the Second Battle of Bull Run.
4'Our Captain' was James H. Wade, Boston. He resigned 7 March 1863.