Steamer Baltic Fort Monroe
Nov 30th 1862
Dear Mother
It is sometime since I have written to you but I have had no chance before. We are all well and in the best Spirits under circumstances. We had inspection this morning which was rather disagreeable as we have so little room hardly enough to turn in much more to roll our Blankets & pack our Knapsacks.
It don't seem much like Sunday and we have had no meetings until today and that was Catholic or Episcopal. I would go all the Time if we had Sermons but I never will to hear Col Ingraham read prayers. Thanksgiving Day was a welcome one and we made the best of it. Walter Bradlee1 got a Turkey for us and with the Pudding you sent we had quite a Dinner. Tom Pierce said we would shoot the first one who left off eating but there was no need of that for we stopped when there was nothing left and I was so full I could hardly walk & didn't get over it until the next morning. But it was not Home and I hope the next Thanksgiving Day will find me there. We go on Shore most every day Target Shooting and to air ourselves. It is a beautiful place and Charlie Thayer thought he should like to stay here when he was out before but Hampton has been burned and the ground is covered with Shells and small shot making that place look desolate enough. The gunboat Passaic (Monitor Style)2 has been here & went up the James River this morning.
There has been a great many Transports here and everything looks like doing something but when or where we go is more than we know. Perhaps it will be to Richmond. I did think I would rather go anywhere but there but I suppose the sooner we take it the sooner the War will end but there will be a few thousand lives lost taking it I reckon. Our lieut came last Thursday and I was glad enough to see him.3 He was down here just now being shaved by one of the Boys. I told him I was writing to you & he sends his love. I think all the boys will like him very much for he makes himself at home amongst us. I almost forgot to speak about the Box you sent. That pork was very nice & the Chickens made us two good meals. I suppose it will be sometime before we get any more but I guess we shall live through it.
As soon as we leave the Boat I shall clean out my Knapsack of everything but a Change of Clothing. Those Stockings I feel very thankful for but I don't think I need the Flannel. At least I should have never sent for it but I shall wear it.
I hope Father is better than when he last wrote. Give my love to him & tell him I shall write to him next.
What shall you do about your Teeth? You must have another Set. I'll do something for you next pay day. I'm glad Hattie is taking lessons & hope she will learn fast.4 What are you going to do with the money I sent home? I hope you will use it.
Give my love to all the little ones Johnny, Hattie, Carrie & Charlie & tell them to be good for me. Write as soon as convenient from your Aff Son Henry.
---
1'Walter Bradlee': Bradlee was a corporal in Henry's Company and knew Henry "ever since his boyhood" in Milton. After the war J. Walter Bradlee was a prominent Milton resident — more on him later.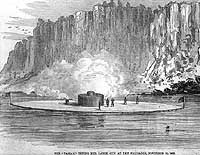 2'gunboat Passaic': The USS Passaic was first of a ten-ship class of the 1335-ton ironclad Monitor. She was built at Greenpoint, New York, christened late November 1862 and was detained in Washington D.C. most of December for repairs. She is depicted here during gunnery practice, 15 November 1862 on the Hudson River, NY.
3'Our lieut came last Thursday': This was probably 2nd Lieutenant Morton D. Mitchell of E. Bridgewater. He was promoted November 1st but resigned March 23, 1863, and died on shipboard on passage home.
4Lessons for Hattie: Henry's money was put to good use. Hattie's occupation on an 1880 census for Dorchester, MA was 'music teacher'.