Please direct
Co I 38th. Regt
Banks Ex
New Orleans
New Orleans, La Jan 18th 1863
Dear Mother
Fearing you might be worried about me after hearing by Lute that I am unwell, I make haste to let you know how I am getting along and if possible get this into the first Mail & have it reach you as soon as his.
Owing to the damp nature of the Climate especially at this Season and the inefficiency of Boards to keep it off, it is not surprising that many are sick from Colds and Rheumatism, which last has effected me over a week but now nearly left me and I am in hopes to be able for duty very soon. I have not had a cold in my head but once and that while at Ship Island which I think is quite lucky for me. Lute has done everything he could for me and I feel very thankful to have him here.
I was down to the City yesterday with Charles Thayer1 and a splendid time I had. it seemed so strange to ride in the Cars and then be in such an excitement. Everything looked so strange and different from Boston. I don't like the place myself, perhaps because I am not used to it but I think I shall never want a better City to go to than Boston.
We had a Splendid Dinner which cost us most a dollar a piece but as John Crossman used to say it was a great occasion which don't come every day so we didn't stop for that. We are having beautiful weather now, if anything though, rather warm.. I don't know what it will be next summer but hope we shall live through it. The Boys are out on Battalion Drill which would please you very much if you could see them. I presume we have as well drills a Regiment as ever came here and the Men have been complimented by Banks2 and his Staff. If we ever get in a fight we shall make our mark but there aint any danger of that for there has been several chances already.
I for one am not over anxious to go into a Battle but when the time comes if I am not there why it will be because I cant. One poor Fellow on Guard this morning shot his 3rd & 4th Fingers off which gave the Surgeon about 2 hours work. I don't know what they would do in a Fight but I think it would take them all Day to attend to one companies wounded And so it is through the whole Army which accounts for the wounded lying out three or four Days without care.
I suppose you are having cold weather now and perhaps good Sleighing but I am contented to go without this winter hoping it will be the last. I hope we shall all be home before another New Year and the war ended but I almost tremble for that ending Mother! I hope you will use the money I sent home for I know it will afford you many little comforts which otherwise you would be without & besides it will give me more pleasure.
Write me a good long letter about affairs at home & how Father is getting along in his Financial affairs. Tell him to write & also all the rest. I hope you are pushing Hattie along in her Piano Studies. Write about that and I will answer immediately. Give my Love to Father, Johnny, Hattie, Car. & the young Squidunk Charlie
My Love to you & hoping to hear soon I remain
your Aff & dutiful Son
Henry
---
1Charles Thayer: Charles H Thayer was born in Randolph but removed to Milton in early life. He was employed as a baker at Bent & Co. prior to his first enlistment with the 29th Regiment, Mass Vols. 20 April 1861 but was discharged for disability less than a month later.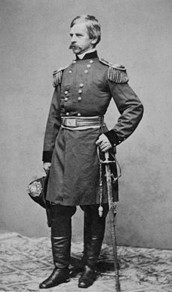 2Banks: Nathaniel Prentice Banks (at right) was born in Waltham, MA. An American politician and soldier - he was the 24th Governor of Mass. and the 25th Speaker of the U.S. House of Representatives. December 1862 President Lincoln appointed Major General Banks commander of the Dept. of the Gulf.