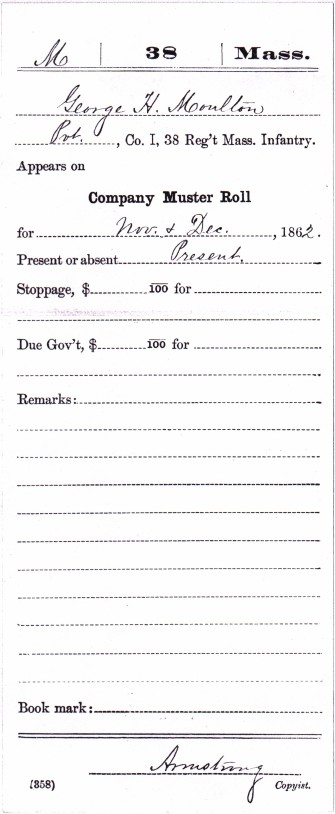 December 1862
While the first months of Henry's service gave him plenty of new experiences to write vividly home about, the Army's perspective is summed up starkly in the card at right. This, like the last one we saw recording him mustering in at Camp Stanton, is a Compiled Military Service Record transcribed by Clerk Armstrong. Armstrong was working in the 1880's from the original company muster book, and here records Henry's faithful attendance at musters in November and December 1862. Sorted by name, these cards would verify a soldier's pension eligiblity.
The latest of Henry's letters which you've received left him rushing to catch the mail before his transport sailed into the unknown — Charleston or Texas, he ventured.
His letters leave us wondering — no word for a couple more weeks — but the Regimental History records that the Baltic hoisted anchor at 4 pm on the 8th of December. The fleet sailed south arriving at Ships Island on the 12th, at the mouth of the Mississippi, down river from New Orleans.
They remained there until the morning of December 30th when the Regiment was transferred to a more suitable transport, The Northern Light, and made their way up river towards New Orleans.
Mike Doyle, HistorianSteve Kluskens, Curator
Milton Historical Society
---