Baton Rouge Dec. 25, 1863
My Dear Mother
Your kind Letter arrived yesterday while I was on Picket which made it more interesting for I could but compare my situation with yours and many a pleasant thought I had of those dear ones who never forget me. I can truly say I love Soldiering but nothing compared with my Home which I have left only because duty called me here.
I have recieved Letters Since I wrote and in your last you said you had not heard from me very frequently. While I was at Plaquemine I felt very little like writing for we were having such good times I could not settle my mind but forced myself to write what little I did.
We got back last Sunday Morning & have had a fine time fixing up our Tents with Boards, my Tent is Boarded 6 feet high & the Bunks are over one another making quite a large Room for us. We shall build a Fire Place & Chimney soon although I think it not needed. The weather has grown very mild which is lucky for us as changing from a Building to a Tent might effect some of us. I cant remember when I had a cold last & my health is excellent for which I feel very thankful.
They tell me I am growing fat which is unusual for me as I am to lively. I weigh 135 & I do not wish to weigh any more while I am out here but when I get home we will reverse things The people are having a grand time to day the Colored Folks in particular. they gather together & a Fiddler keep them flying untill morning. Yesterday a woman gave 8 of us a young Porker weighing 30 lbs, all cleaned Stuffed & ready to bake so you see I have had a good Dinner to day & have enough left for tomorrow. We had a Fish Chowder today but I can keep that for another time.
I wish Lute could have been here before he went home so as to describe the place to you for I am not much of a hand for that. You will remember the Flowers I sent from the State House Grounds and the excitement here in March last.1 My old Letters written then might be interesting, if not destroyed there is such a contrast. Now, everything is quiet as if there were no war, but Banks is not idle & we shall hear from him soon.
It is very interesting for me to hear about the War Meetings & I wish they would enlist without drafting but they wont. There are to many like Brewer Lute wrote about who like to do the talking but have no idea of going themselves. How I would hiss at them if I could be where they are. You cant imagine how glad I am that I came out for Three Years & shall avoid so much talking about going to war. Johnny is not quite old enough to be drafted & I am glad of it for I think our Family has done all of their share dont you?2
John is doing well for himself now & you need have no fear for him. I wish I could be with him to influence him but I can write to him & I know it will encourage and benefit him You wrote that Father has joined the Church for which I feel very thankful I have often thought it was the only thing needed for he always has been a good Father & I am only one of a large Family That Love him. Oh: how I should like to be where I could do something for you all & make one of the happiest of Families but This cruel war will soon be over & we shall all feel that this separation has been for our good. I know you think so.
Remember me to Lute & tell him I shall write very soon also to Hattie, Cad & John the Mechanic. With much Love to you, Father & all I will close.
From your Ever Aff. Son — Henry
---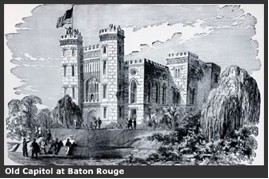 1 See letter dated March 12, 1863 "...it is the largest brick building I ever saw and the grounds are laid out in style."
2 From The History of Milton, Mass (p.443) "In this war Milton, true to her former history, was prompt in action and decided in purpose. In no instance during this protracted struggle did the town fail to furnish her full quota of troops."