Morganza La. July 1st. '641


Dear Cousin2
It is now so long since I heard from you that I will send a few lines to know if you intend to write again or drop me altogether. I dont think I have neglected answering any of your Letters if I have please let me know. I dont know as you have any spare time for I hear that Mr. Fernald takes a good share of it.
While on this last Campaign I have rec'd. four Letters even from Home but within a few days I have had considerable business on hand Annie wrote one a first rate Letter and I take it that she likes Boston pretty well. Lute wrote me that business was very dull at the Store: on acct. of the struggle in Va. perhaps.
You Folks at home are hardly awake to what war is, yet. but before Grant gets through you will hear of fighting worse than we have had yet. Our news are to the 24th, very encouraging & in my mind I have no Idea but what Lee will be driven out of Va if he leaves Richmond which I think he will do rather than let Grant come thru Vicksburg on him.3
We have hard fighting here and we were fortunate in not being at the front. I suppose you know of the fight we had and the death of Capt. Lathrop. We are in Camp for a few Mos. while the hot weather lasts and have very little to do: I suppose we shall have a hard Campaign this Fall for there are Men enough in the Dept. if that is all.
I have not heard from Louis for a long time and would like to have you spur him up a little. There is nothing new of interest that I can write except of the 6th Mass Cav, formerly 31st Infantry, preparing to leave for home4. They will give us a chance next month, but whether we shall accept or not remains to be seen.
Remember me to Lou, all at the Store and write as soon as convenient
With much Love I remain
Your Aff Cousin
Henry
P.S. Please let me know where Hen Wescott5 is:
Berry is O.K.
Hen

---
1 Morganza, La: Morganza is named for Morganza Plantation, an antebellum property of Charles Morgan. Morgan was the son of Captain James Morgan, an officer of the Revolution from NJ. Captain Morgan is believed to have been involved with the illegal transfer of slaves from NJ to Louisiana. Morganza is located north of Baton Rouge along the Mississippi River. It was also a filming sight in the 1968 movie Easy Rider staring Peter Fonda, Dennis Hopper, and introducing Jack Nicholson.
2 'Dear Cousin' may refer to Corp. Charles H. Moulton (possibly 2nd or 3rd cousin), who was from Acton, MA, but credited as an enlistee from Milton. Henry mentions Charles several times in earlier letters and it appears Charles may have lodged with Henry's family in Milton after his March, 1863, discharge for disability. This could explain why the letter survived and is included in the Moulton collection. He died 27 December 1864, at his home in Acton, of phthisis, a progressively wasting or consumptive condition — pulmonary tuberculosis.
3 The Harper's Weekly - June 18, 1864 illustration (below) of a Civil War Battle, captioned "The campaign in Virginia — on to Richmond," depicts the North's mindset that Grant and the Union Army had finally set a true course to victory.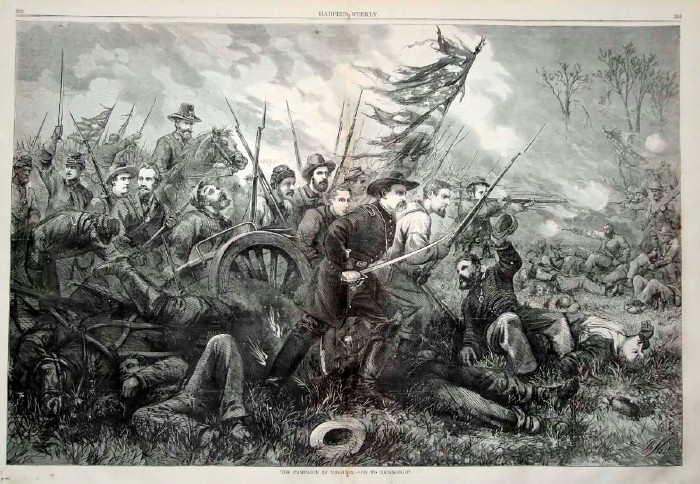 4 6th Mass Cavalry: In December, 1863, the 31st was armed and equipped as cavalry and stationed a Carrollton (near where Henry's regiment was stationed), being commonly known as the 6th Mass. Cav. The 38th Regimental history gives this account: "On the first of July the Sixth Mass Cavalry (formally 31st Inf.) passed by Morganza in a transport, on their way home on furlough, having re-enlisted: and the 38th formed in line on river-bank, and gave them a cheer."
5 Hen Westcott is likely Henry A. Westcott, from Chelsea, MA. A soldier in the Eleventh Regiment Mass Volunteers, he was listed a deserter August 24, 1862, near Alexandria Va. His occupation at time of enlistment was 'musician' and he may have been employed at the Ditson Music Company in Boston where Henry worked before enlisting.