I hear you can
Draw my State Aid
From my enlistment
$1 per week
Texas Landing La May 29 '641


Dear Mother
As I have a Leisure time I may as well send a few lines if for nothing more than to tell you how much good your kind Letters have done me & that hey have caused me to think more of home than I have for the last year, so it seems for I dont allow myself to look behind.
I suppose I am somewhat hardened indeed. I know I am for I saw an awful sight at Cain River but it did not make me falter. Forward was the word & on we went with a Cheer over Dead & dying. I dont attempt to tell you much that we go through but am glad to see such notice taken of this Army in the Journal, as you can get News by that quicker than from me.2
Those Stories about Banks 2nd & 3rd Order to Smith to Retreat are untrue & the Burning of Grain & its capture by Smith with 2000 Men is a lie! Another thing Banks had no Reinforcement untill his Army had been in Alexandria 2 or 3 Days.
At Port H. & in the last Campaign Banks had the Story his own way but now he will be picked to pieces & no mercy shown him by the Western Men, Porter among them but his Star will Shine as bright as ever in my mind, as is the mind of all the 19th Corps.3
They are having bloody fighting in Virginia & thousands will lose their lives. I hope it will not be in vain for lives enough have been sacrificed there but God only knows. If Grant is defeated I should like to see that Army go home & their place filled by those who have no idea of ever coming out here.
The People of the North are to much involved in business: I calculate that 1/3 of the People have done their whole duty & their share of the crushing of the Rebellion & I think the other 2/3d deserve to have this War carried on 5 Yrs. More: Why are not the Quotas full? Why put off the Draft? it is prolonging the War by delaying: what we want is men enough & we must come to it sooner or later.
I dont relish this Soldiering so much as some but when I get a discouraging Letter or hear of the Peace Party doings at home it makes me more enthusiastic in the cause. I have done my duty so far & never mind my health but I hope to get through if I can have strength enough left to take care of & support myself but in such a climate as this the prospect is far from being a good one. All the wealth of J. Forbes would not tempt one to stay any longer than my duty prompted one.
If I was at home now I should take a year, if possible, in recruiting. but I guess I can stick it out: As John Bradlee said of Capt. Wardsworth: We know what Stock he came from, not very elegant language but its to the purpose.4
Hyram is tough & is detailed as the Regimental Butcher. he sent us up a big Liver & we had a good time over it & bought some Potatoes off the Boat & have just get rid of them.
The weather has been delightful for a long time: John C, Sergts Simpson & Parker & Wigley & Myself have a big hut all together made of Shelter Tents on a Frame & we have quite a Shady place.5 We have a good chance to Bathe & keep clean & I think this place is quite as healthy as B.R.
I did not direct the last Letter like this but we are in the same place: how long to stay I dont know.
I had a dream night before last, kind of Night-Mare was in Boston & when I woke up (11PM) the Mail had arrived & I read Lutes Letter & looked with great interest at the Papers. Give my Love to him & tell him to take good care of himself
Give my Love to Father, Johnny & all & tell them I will write to them all when I get in Camp
Remember me to all & accept much Love from
your Aff. Son Henry
You have told me all along that Aunt M was rather low Spirited I inform myself that she is insane6 Were you afraid to tell me.
---
1 Henry chastised his mother in his Feb. 9th letter for showing his letters around. Is the break in correspondence between then and the current letter Henry's way of making his point? Probably not — Henry, now on colors, had more pressing matters on his mind. The Union Spring Campaign commenced March 23 when Henry's regiment embarked on transport at Baton Rouge and steamed up the Mississippi to the Red River (see the Harper's Weekly April 30, 1864, depiction below). During this campaign several large transports were captured by the enemy and one was a mail transport [chapter VIII, 38th Reg. History].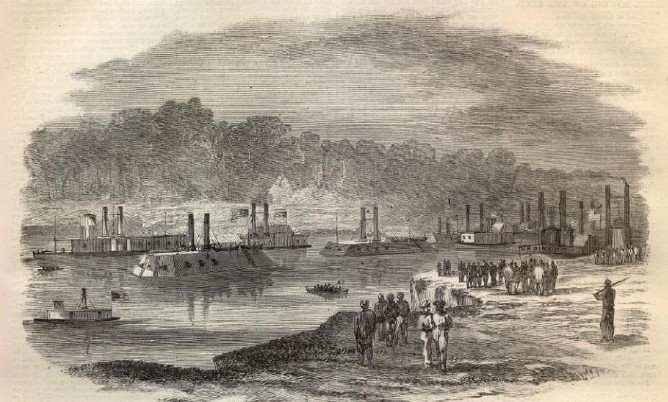 2 The Battle of Cane River was fought April 19. The regiment lost two killed in action and eight wounded — most mortally. Captain Julius M. Lathrop of Henry's company lead a charge and was mortally wounded — Henry, now a member of the color guard, was in the thick of it. Henry's reference to the 'Journal' refers to the May 7th article in Harper's Weekly in which it was stated, "The success at this point will give Cane River a historic importance."
3 The Red River Campaign under Union Gen. Banks and the Navy's fleet of Red River gun boats (Admiral Porter's Flotilla above) met with initial success but eventually faltered and was forced to retreat. The Regimental History has this account: "There appeared to be as many opinions regarding the details as there were soldiers present. The Western officers and men laid the blame of the repulse on the eastern generals, the infantry charged it on the cavalry, the artillery on the infantry, the army on the navy." Harper's Weekly (May 28, 1864, p. 338) announced a request for an investigation, by the Committee on the Conduct of the War, into the cause of the late reverse on Red River, amended so as to comprehend Bank's entire administration.
4 Capt. Wardsworth was Edwin Dexter Wadsworth born 1832 in Milton. Henry calls him "Ed Wadsworth" in his first letter (28 August 1861) — captaining Mr. Forbes's ship to China. Henry's brother Luther shipped that voyage — apparently recruited by Capt. Wadsworth. Edwin Wadsworth was a prominent Milton citizen and a sixth generation descendant of Captain Samuel Wadsworth of Milton who, with twenty-eight others, were slain 18 April 1676 while defending Sudbury, a frontier settlement, during King Philip's War.
5 Henry's election to the regiment's color guard has earned him distinction and perks — although still a corporal he bunks with four of Co. I's sergeants [John Crossman - Milton, George Simpson - Milton, William Parker - Norwood, James Wigley - Milton]
6 "Aunt M" may have been Martha Moulton, sister of Henry's father. She married Addison Fisher of Dedham. The family moved to Irvington, Iowa where she died in 1869.