Camp Meigs and the U. S. General Hospital at Readville, MA
Compiled by Dennis Doyle, MHS Historian
December 2014
Henry's (Corporal George Henry Moulton, Co I, 38th Regiment Mass. Volunteer Infantry) flurry of letters from the U.S. General Hospital in York, PA, during October 1864 speak of his desired transfer to the Civil War Hospital facility at Readville, MA. A two-day pass issued there, October 28, attests to the realization of this wish.
During the Civil War, Readville supported three Massachusetts training camps and a large U.S. Army General Hospital. Best known as Camp Meigs, nearly 30,000 men in 55 military units prepared here for battle, including three of the Union's earliest black regiments.
Camp Meigs — U.S. Army Training Facility
In July 1861 two temporary regimental encampments, Camps Brigham and Massasoit, raised their tents on Dedham's Sprague Plain to prepare recruits for civil war. Previously an aboriginal camp ground and local militia drill field, the Readville site was perfect for military training: its flat river terrace suited infantry, cavalry or artillery maneuvers; its location astride two railroads lines insured transport; and it proximity to Sprague Pond and the Neponset River provided water for drinking and bathing. By September 1862, the Commonwealth erected a permanent cantonment, named for federal quartermaster general, Montgomery Meigs. Camp Meigs proved the largest and longest lived of Massachusetts' 39 camps (excerpted from Massachusetts MDC's The Black Regiments of Camp Meigs program/tour guide).
Many a Milton army recruit got his first introduction to military life and tactics at Camp Meigs, including 46 members of the 45th Regiment Mass. Volunteer Militia (a nine-month regiment, serving from September 1862 to July 1863). The 45th's Regimental History, compiled by Albert W. Mann and published 1908, describes the Camp Meigs cantonment (p. 60):
Camp Meigs was located about ten miles from Boston, a few rods from Readville Station on the Boston & Providence Railroad, within the limits of the town of Hyde Park, and three miles from Dedham Centre. It was upon a nearly level tract of high land bordering on Milton Street, of which our Regiment occupied a rectangular space of about eight or ten acres. To the south and east the field spread in gentle slope to the Neponset River some three-quarters of a mile away, whose winding course forms the north-west boundary of Milton. It is a slow stream there about fifty feet wide, and unseen from the Camp because of a belt of scrub oak and birch on the edge of the lowland. The Blue Hill Submit, a little east of south, and not far off on the other side the river, was the prominent feature in landscape, with its hilly range extending easterly.
Our barracks were ten parallel one-story buildings, about eighty feet long, of plain boards, with doors at each end, a spacious parade ground in front, and separated by a lane in the rear from the cook-house. Nearby in the same direction were the officers' tents and mess rooms and the buildings of the quartermaster and medical departments. Other regiments were similarly housed on the west of us, leaving the view unobstructed to the east and south. This encampment formed the principal school of the soldier for volunteers in the eastern part of the State. Here several other nine-month's regiments, of which were the Forty-Second [2 Milton recruits], Forty-Third [2 Milton recruits] and Forty-Fourth [5 Milton recruits] had preceded us by some weeks.

Sketch opposite title page of The Campaign of the Forty-fifth Massachusetts Volunteer Militia,
printed by Company A Associates, Forty-Fifth M.V.M., 1882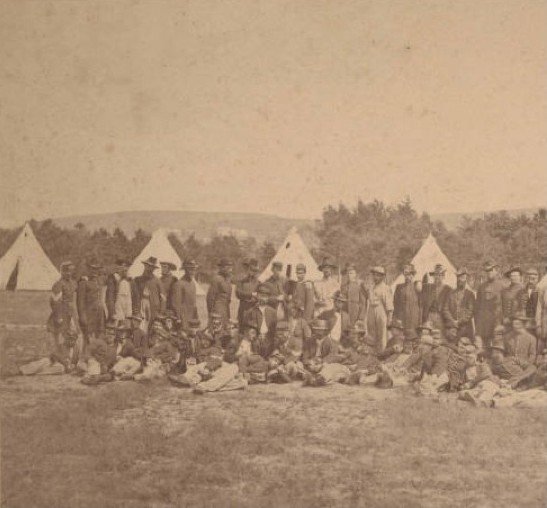 Photograph of members of 45th Regiment encamped at Readville
[Camp Meigs and Blue Hills in background]
Henry's older brother, Luther Moulton, who served with Henry in the 38th regiment and was discharged with a disability March 1863, re-enlisted July 1864 at Readville, in the 6th Regiment (a 100-day regiment). He mustered out at the conclusion of his tour at Camp Meigs, October 27, 1864, and most likely was there to welcome Henry upon his arrival at the Readville facility.
U.S. Army General Hospital, Readville, Mass
By June 1864, the increase in wounded soldiers prompted the Union Army to open it first major hospital in Massachusetts,1 commandeering the main easterly section of Camp Meigs for a United States Army General Hospital at Readville. This facility grew into an impressive 71-building compound of wards, quarters, kitchens, support buildings, storehouses, etc., whose staff treated more than 4,000 troops for campaign-related wounds or disease. Here, the wounds were treated close to family and friends, with many a Readville graduate ironically hospitalized where they once barracked. The hospital, with its chapel, gymnasium, and library was phased out at war's end, last wards being auctioned off in January 1866.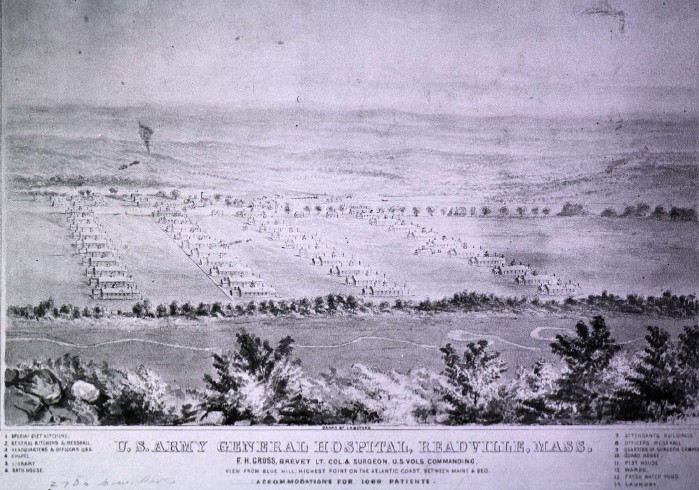 U.S. Army General Hospital, Readville, Mass — Photo of a drawing by J.M. Bufford
(from National Library of Medicine's Images from the History of Medicine)
Following the war, the northern half of the hospital area east of the railroad slowly developed into a residential neighborhood, while its southern half was used first as a racecourse and later for warehousing. In 1899 the Metropolitan Park Commission (MPC) purchased the Neponset River's Fowl Meadow as part of the Metropolitan Park System. West of the tracks, the area evolved into a mixture of residences and light industry. Although a monument of Readville's campgrounds was first proposed in 1866, it was not until 1903 that the town of Hyde Park allotted a small parcel near the center of old Camp Meigs for a playground. Becoming a City of Boston park after the town's 1912 annexation, the city finally transferred the Camp Meigs playground to the Metropolitan District Commission in 1958. In 1991, a tablet was dedicated to the camp's three black regiments, and as part of the MPC's 1993 centennial celebration, an historical plaque was installed on site.2 The park today is managed by the Massachusetts Department of Conservation & Recreation.
---
1 The second U.S. Army General Hospital was Dale Hospital in Worcester, MA. The first patient was admitted to the hospital on October 20, 1864 and four days later 131 patients were transferred there from the Readville Hospital.
2