Fort Federal Hill
Baltimore Md.1
Jan 22 '65
My dear Mother
I will now send you the News about your Soldier Boy2 who would have had nothing to worry about except the feelings of the dear ones who I had to leave so abruptly.
To be sure we have not had the best of treatment on the way but I had been in worse places and felt quite at Home: One thing which elevated my Spirits was seeing Luther: How anxiously I watched every Face as I came through the City to see some Friend who would get word to him and I had well nigh given up.
I was glad to see him & shall never forget how good he was to me. He fitted me out so that I wanted for nothing and I felt so thankful that I'm afraid he will think I do not care much about leaving Home: If I do say it, I have always been happy and contented when some would curse and swear; but now I feel as if I had got home again for I have tip top quarters good water to drink & good food: I dont know of any thing I want but what I can get handily.
My old Readville Ward Master is my Chum and Bed Fellow now & a good Fellow he is to: that will please you, perhaps, that I have got a friend: I always have friends & I've got quite a number here who belong to the 14th N.H.: they were with us at New Orleans: quite a good lot of Boys for the Recruits of these times came with us most of them from Maine: There are some from Nova Scotia who "kunn tell" of the great doings of Uncle Sam's Boy's and wish to see the Elephant: some of them think they have got their Money's worth already but when they get a little used to it & a little over their home feelings they will like it better. I wish I could draw a Picture of our Barrack, but enough to say it is as good a concern as Mass boasts of & if I could only run down Home to night had rather be here.
I saw Simpson in the Cars coming from Philadelphia & had a good time talking with him: He is going to Washington & report to Col Ingraham3 & I think he will have to come back here: as the Reg't. is down South somewhere: There are a few of the Reg't. here also some who belong to our Division waiting for Transportation which we cant get untile they know where the Division is, so we may be here a month or two:
Well: it's all in about 6 Months now & I think I am good for that: I wont go through so much as I have if it's for us which I little fear: You must not feel bad about me, if you do, put me out of your mind all you can. that is the way I do but I cant think of you now without feeling bad: I think as old Daggett says that "it's necessary to save the Country:
I should have liked to go out to Meeting to Day but suppose the Passes are all given out: I shall go out in a Day or so to see if it looks natural: You know we were Here a few Months when Luther was with us and had some real good times: Ask Lute about our4
---
1 Fort Federal Hill: This colored lithograph was probably by E. Sachse & Co. 1862. Federal Hill was converted for military use as the Sixth Massachusetts Regiment and elements of Cook's Light Artillery occupied the site after the Baltimore Riot (May 12, 1861). It remained a Union Fort throughtout the War and included an U.S. Army Hospital that treated both Union and Confederate soldiers.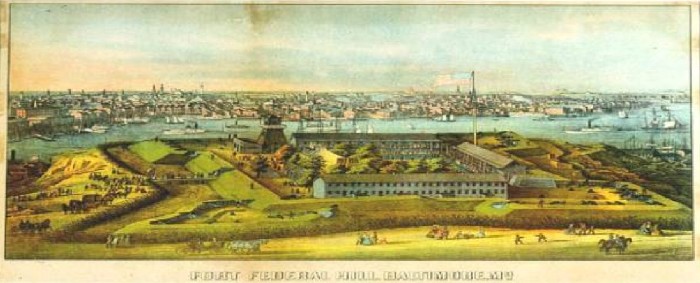 2 This introductory sentence is reminiscent of Henry's opening line in his letter to his mother on his seventeenth birthday (Aug 28, 1861): "Thinking you might like to hear from your son Henry the Boston Music Clerk on his Vacation". Henry has just concluded his convalescence at the Army hospital in Readville, close by his Milton home, and has been transferred to an Army facility in Maryland to await orders and transport to join his Regiment in the south.
3 The 'Simpson and 'Col Ingram' reference refers to: Sergeant John E Simpson from Milton (referenced earlier in Henry's letters) and Timothy Ingraham, the Thirty-Eighth Regiment's first colonel, then on detached services as Provost Marshal in Washington D.C.
4 There was probably another page to Henry's letter which has not survived.