1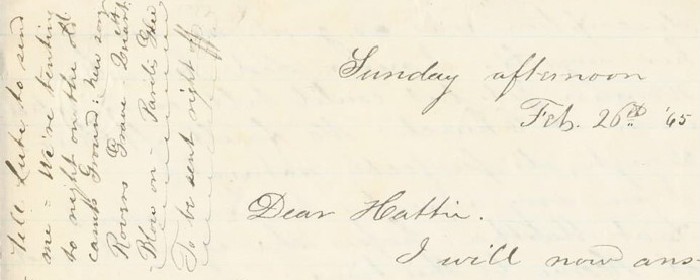 Sunday afternoon
Feb 26th '65

Dear Hattie,2
I will now answer your Letter which came with Mothers and which I was very glad to recieve; I do not let my Letters lay over two or three days before sending them, as a general thing but yesterday I was at work, hard, all day on the Fortifications in the rear of the City so I had to put it off:
It had rained quite hard this morning but it held up in time for John Crossman, Weston and myself to go to Church: We went to the "Baptist" where they have singing just as we do at the Methodist. It put one very much in mind of Home all but seeing Lizzie at the Organ and having Sabiz singing Tenor: So Lizzie has got married: Your description was as good as seeing her myself: I never did know a Woman yet but could tell every article worn at Church: No fault of theirs though, it's perfectly natural:
I am very anxious to hear about Aunt Martha. hope she is well and at Home by this time:
I have heard from "Cousin Nelle" & I suppose before this she has told you of hearing from me. When I think of the times I might have if I were at Home I almost wish I were there but I enjoy myself first rate here: I have had some real good times, Singing, & if we stay here Six Months I shall get quite well acquainted: I hope you will practice all you can, so to play for us when I get back. You ought to learn to play on that Organ & take Lizzies place:
About playing that Piece, Sunday, dont you think Mother capable of judging? answer me in your next:
I hope I shall get another long Letter from you, very soon, & one from Cad for the ring I sent her: It is the 1st I ever made so she must excuse the rough finis.
With Love to you, Cad, Lute & John I close
Ever your aff Bro Henry
---
1 Henry is frugal with his stationery and succeeds in squeezing in a request; "Tell Lute [brother] to send me We're tenting to night on the old camp ground: New song Rovers Grave — Quartet, — Blow on — Parilis Glee. To be sent right off." Tenting Tonight... by Walter Kettredge, author/composer - 1864, was a popular Civil War song.
2 'Hattie' was Henry's sister, born in Milton 1849.