Hayrum and John C.
are all right & full
of it as ever: they
will probably write soon

The New York Branch of
The U.S. Christian Commission
I Co 38th Regt 2nd Div 19 Army Corps
March 12th
Newbern N.C.


Dear Mother
I will now send you a few lines being the first opportunity I have had since leaving Savannah and as the Mail leaves in an Hour you must excuse haste.1 We left Savannah the morning of the 6th arrived at Hilton Head S.C. that night where we stayed untill the next night and then set sail for the north, where we did not know: we arrived off the Cape Fear River the 8th went up by Fort Caswell as far as Smithfield where we had to lay over untill morning there not being any Pilot to take us up: The Harbor Pilot had orders to allow no troops to pass up to Wilmington as Shermans Base of Supplies had been changed to Hilton Head. However, Richardson2 as well as the rest of us wanted a glimpse at the place & as his orders were to report their he was bound to go. It was rather Foggy when we passed Fort Fisher but when we came down we had a good sight at it's well peppered Walls of Sand:3
As we proceeded up we saw what appeared to be a Monitor & which was a Sham one rigged by Lieut. Cushing to deceive the Rebs: I will speak of it some other time: We had a good sight at Wilmington & felt pleased enough with our good luck: I will not give any details but will keep them safe in my mind for future use. It may be pleasant for you to look on the Map as you read of these places: they are all down or used to be when I went to School.
We came in the Harbor below, yesterday Noon: Beaufort on our right we passed, also Fort Macon landing at Morehead City where we should have stopped but for the great Levi at Kingston: Schofield who has about "40,000" was rather hard pressed & all available Forces sent to him: The Rebs attacked making several charges on him but were repulsed: Sat morning Sherman Signaled to Schofield that he was to be with him Monday, intend the Rebs should interpret his Signals. He entered Goldsboro that Eve & had a lively time with the Johnny's:
We have not got the details but Sherman Schofield, Terry & Gouch's forces combined & probably numbering over 150,000 are pressing on: As I predicted, we, our Brigade only are here to keep the communications clear.
We came through the Town or City at Midnight on the Tops of the Cars yelling like Demons & arousing the Women Folks who did not stop to dress before coming to the Windows. As the Scare blew over we stopped here & shall remain a few days unsettled so I shall not write for a few days:
The reason I write so poor is that my right Thumb is done up in a Rag having punched a good hole there with a "hook". If I should break my Leg I should forget it thinking of the good News & bright prospect before us:
I hope I shall hear from you soon, any way write & I shall hear from you some time if not before: I am in good Health & Spirits hoping this will find you all the same. I close with much Love to all
From your Aff. Son
Henry
Direct
Co I 38th
3rd Brigade 2nd Div 19th Corp
Morehead City — N.C.

---
1 The details Henry provides in "a few lines... [in] haste" are remarkable. They so resemble those given in the regimental history — Chap. XIX, pp 197-202 (The Story of the Thirty Eight Regiment of Massachusetts Volunteers by George Powers, published by Cambridge Press, Dakin & Metcalf 1866) that if they weren't in Henry's own handwriting and on dated stationery one might suspect them a fabrication of Powers' Story.
2 Lt. Col James P. Richardson, Cambridge, MA. — promoted Lt. Col of 38th Regiment, July 1863, and now in command of the 3rd Brigade of 2nd Division, 19 Corps.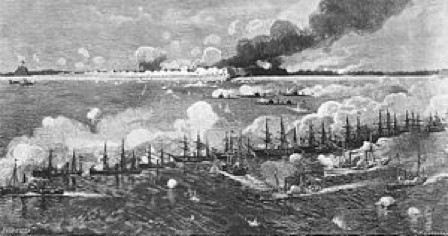 3 Fort Fisher: At right, ships of the North Atlantic Blockading Squadron bombarding Fort Fisher prior to the ground assault January 15, 1865.