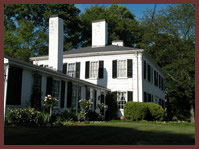 Milton is a town rich in 400 years of history – stories of its people, places, and institutions.
In its earliest days, Milton was a capital industrial center. It has been home to five Massachusetts governors, including our current one, and is the birthplace of a US president. Milton housed the headquarters and track bed for the nation's first commercial railroad. Of course, it's also home to the Suffolk Resolves, which became the colonies' first collective statement against the British government, a precursor to the Declaration of Independence.
There's so much more history that the town can boast, and is adding all the time.
But without the Milton Historical Society, who would there be to preserve such a rich legacy? And, to pass that legacy on to generations to come?
That's what we do. And that's why we've been here for more than 100 years!