What We Offer
With four centuries of history, we have plenty to offer!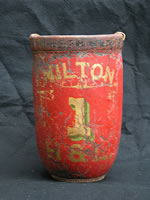 Our aim is to be a resource that's fully accessible to all who have an interest in any part of Milton's fascinating past. We do this through tours, exhibits, lectures, publications, and the very popular fireside chats.
Research questions are also fielded by phone and email. We help to sponsor an on-going educational program for fifth graders that includes classroom presentations and bus tours to historic sites in the town. And, since 1987, the Milton Historical Society Scholarship has been awarded annually to a graduating high school student with a demonstrated interest in history. But there's so much more we want to do.
And that's where you come in.
Why we need you …
Just by being a member you'll help provide the means for us to expand our facilities, to plan new programs and activities, and to broaden our outreach.
Your membership in the Milton Historical Societywill encourage and enable us to make even greater efforts towards contributing to the cultural wealth of our town.
And, of course, your membership also gives you direct access to so much historical information and many activities sponsored by the Society.
Be a part of history...
So we happily extend to you a cordial invitation to be a part of Milton's history in the making.
Come join us!
...and help make history a legacy for Milton's future. We're certain you'll be happy that you did!
Two options for membership sign up
Send a Check:
Print and fill out this form and send with a check with the appropriate amount.
Milton Historical Society Membership - PDF 105k
Subscribe online:
Choose membership level, click Add to Cart and pay with a credit card or Paypal account online. Corporate Membership includes listing in our Newsletter.
---
Donate
You can make a contribution by clicking the button below, or by sending a check payable to The Milton Historical Society, 1370 Canton Avenue - Milton, MA 02186.