History of Milton Pharmacies/Drug Stores
Quimby's Pharmacy (1894-1905)
Adams St., near depot
E. Milton (Rugby Bldg. built c.1900)
John Ernest Quimby, who lived at 12 Belcher Circle, had established the first pharmacy in East Milton Square by October 1894 when he purchased "apparatus from the Low Co." for his Milton store. According to the Milton News the drugstore served hot chocolate and beef tea and was a favorite stopping place for sleighing parties during the winter months.
In 1904 druggist Quimby (pictured with assistant Paul Eaton) was one of the delegates to the Republican Congressional Convention, chosen to represent Milton. The following year Quimby decided to retire from the pharmacy business and sold the pharmacy to E. T. Q. Hodges and Willard A. Hodges.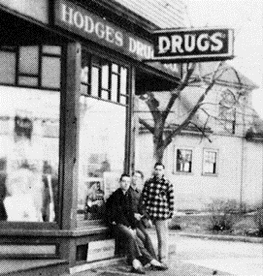 Hodges Drug Co. (1905-1966)
"the prescription store since 1894"
Rugby Bldg., 537 Adams St., E. Milton
Brothers Edward Tisdale Quincy Hodges & Willard Allen Hodges operated the pharmacy they purchased from J. Ernest Quimby as Hodges Drug Co. from 1905 until 1946 when Willard Hodges died. Hodges Drug Co. was sold the following year to druggist Steward M. Ross, who had been employed by Hodges for 25 years; pharmacist Edward T. Q. Hodges continued on staff working mornings until about 1949. Ross operated Hodges from 1947 to 1965. Next J. Joseph Reynolds is seen listed as Manager. The drug store closed the following year.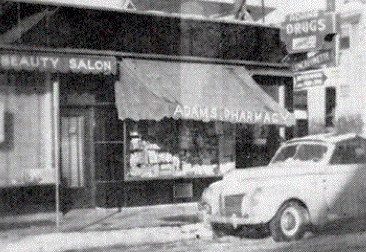 Adams Pharmacy (1939-1952)
Johnson Pharmacy (1952-1961)
364 Adams Street, E. Milton
1948 photo shows Adams Pharmacy at 364 Adams Street on the corner of Church Street. From at least 1941-1945 Samuel Sachs was proprietor-pharmacist of Adams Pharmacy. Milton teens in the 1940s nicknamed the pharmacy 'Sams'.

Lyman Canney Apothecary (1900-1902)
Charles E. Nutter Apothecary (1902-1904/5)
Milton Directories 1900-1902 list Lyman Canney Apothecary, Adams Street, corner Edge Hill. In 1902 Lyman Canney sold his business to Charles E. Nutter to go into farming. Charles E. Nutter Apothecary is listed in Milton Directories until 1904. He likely sold out to John J. Hammers who opened his pharmacy in 1905 in the Ellsworth Building on Adams Street at the corner of Edge Hill Road.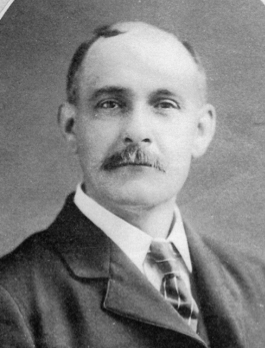 J. J. Hammers, Inc. (1905-1968)
"Milton's Rexall Store"
511 Adams Street & 426 Adams Street
In 1905 John J. Hammers), a 1902 graduate of Massachusetts College of Pharmacy, opened Hammers Drug Store in the Ellsworth Building in East Milton. In 1921 J. J. Hammers was granted a license to dispense liquor with a physician's prescription in accordance with Federal prohibition laws! His son, John M. Hammers, joined him in the pharmacy business for a brief period.
By 1937 John H. Dorsey was listed as president and pharmacist at J. J. Hammers. John S. Austin was pharmacist and proprietor from the late 1940s until 1960 and oversaw the store's move to 426 Adams Street in 1954, shortly before the construction of the Southeast Expressway through East Milton Square.
Eleanor "Snooky" Huban was a pharmacist's assistant for many years at Hammers. Pharmacist Francis S. Roddy may have been owner of J. J. Hammers when it closed its doors in 1968. Hammers was known as "Pud's" to Milton teens.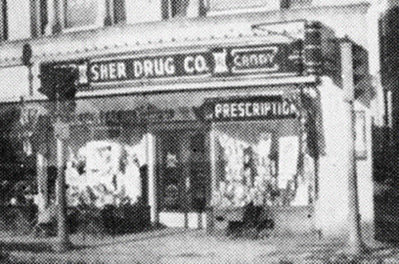 Sher Drug Co. (1939-1986)
East Milton Pharmacy (1986-1990)
380 Granite Avenue
Sher Drug Company in East Milton opened July 1, 1939, the same day as Oak Street Pharmacy on Blue Hills Parkway. Sher's had a Quincy location at 33 Washington Street that was operated by pharmacist Ralph B. Sher.
From 1939 to 1973 Samuel Weiner was listed as pharmacist and owner of Sher's Drug Co. at 30 Granite Avenue. According to state records by 1970 his son, pharmacist Donald H. Weiner, was taking over operation of the pharmacy. However, in 1986 Donald Weiner lost his license, was forced to sell the pharmacy and was sentenced to 3 to 5 years after being convicted of illegally selling the painkiller Percocet without a prescription. Judge James McHugh remarked that Weiner had made 'sick people sicker'.

1987-1990 the East Milton Pharmacy at 380 Granite Avenue was operated by pharmacist Leanne Jasset. Jasset, the last owner-pharmacist at this location, said that drugstore chains were a main problem for her store -- the Rix Super Drug Store at nearby Milton Market Place represented a lot of competition.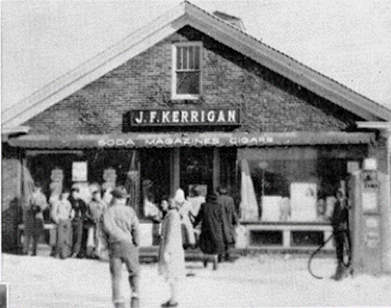 Kerrigan's Corner Pharmacy (1954-1965)
Palumbo's Brookdale Pharmacy (1965-1981)
2 Reedsdale Road
In 1954 Leonard Mindel, possibly with support from his father, founded Kerrigan's Corner Pharmacy. Five years later the business was sold to pharmacist Daniel Wine. In 1965 Wine and pharmacist Lynn Goren of Kerrigan's were fined after pleading guilty of dispensing without a prescription between September 1963 and January 1964. The following year pharmacists Joseph and Olive Palumbo purchased the pharmacy, operating it as Palumbo's Brookdale Pharmacy. The couple opened three pharmacies over 18 years: Wentworth Pharmacy in Dorchester; Palumbo's in Milton; and Rockland Pharmacy. By 1981 all had been sold.

John W. Schuver/Clover Drug Co. (1932-1994)
24 Central Ave.
From at least 1932-1953 John W. Schuver was pharmacist and proprietor of Schuver's Drug Store at 24 Central Ave. By 1955 the pharmacy had been sold and renamed Clover Drug by pharmacist Saul Cohen who owned the pharmacy for 40 years. For 25 years pharmacist Frances M. Tobin worked at Clover. Alfred G. Brewer worked as a pharmacist here as well. Clover Drug, which closed in 1994, was the last independent drug store in Milton.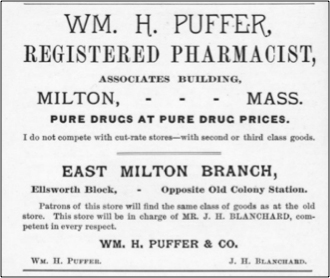 Pharmacy at 50 Adams St. (1883-1967)
William H. Puffer pharmacy (1883-1912)
50 Adams St.
1883 William H. Puffer established a pharmacy in the Associates Bldg. on 50 Adams Street. In 1912 he sold the pharmacy to W. C. Welsh. In 1921 it was purchased by Harry B. McCormick, becoming the Milton Hill Pharmacy.
William H. Puffer, an Athol native, came to Milton where he opened a store in the Village about 1883. Briefly, around 1894, Puffer had a branch in the Ellsworth Bldg. in East Milton, possibly operated by J. H. Blanchard. In 1912 Puffer sold his pharmacy at 50 Adams Street to W. C. Welsh.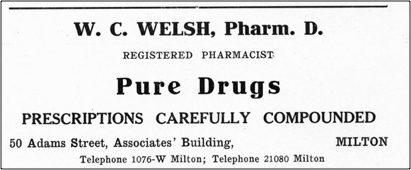 W. C. WELSH pharmacy (1912-1921)
50 Adams St.
The summer before his graduation from pharmacy school, William C. Welsh worked for pharmacist Fred W. Archer in Pierce Square. Following graduation from Massachusetts College of Pharmacy, W. C. Welsh became a clerk in the pharmacy owned by William H. Puffer and in 1912 became owner of the business. After selling the pharmacy to H. B. McCormick in 1921, Welsh opened a store in Dorchester.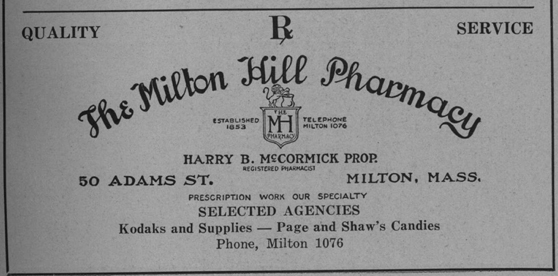 The Milton Hill Pharmacy (1921- 1967)
50 Adams St.
1921-1936 H. B. McCormick, proprietor
In 1912 Harry B. McCormick, a graduate of the Massachusetts College of Pharmacy, came to Milton to assist W. C. Welsh who then owned the pharmacy in the village. From 1919-1921 McCormick operated a drug store in Concord, then returned to Milton in March 1921, buying out the business of Mr. Welch, which he then conducted as The Milton Hill Pharmacy. 1938-1942 Edward J. Kivlin is listed as pharmacist-manager. By 1945 Wesley W. Colby was listed as pharmacist. 1953 and 1954 listings show D. J. Byrne as Manager. The last listing for the pharmacy was in 1967.

NOTE: ad says established 1853; however, no evidence found the pharmacy was established prior to 1883.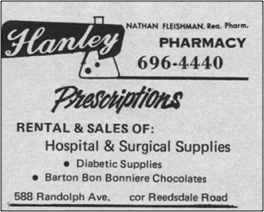 Hanley-Fitzpatrick Pharmacy, Inc. (1950 -1970)
Hanley Pharmacy (1971-1988)
588 Randolph Ave.
In 1955 Charles F. Hanley was listed as pharmacist at Hanley-Fitzpatrick Pharmacy By 1962 Nathan Fleishman was listed as pharmacist at Hanley-Fitzpatrick Pharmacy. During his time, the name of the pharmacy was changed to Hanley Pharmacy. In 1981 Fleishman was replaced by Alfred G. Battaglini who was pharmacist when Hanley Pharmacy closed in 1988.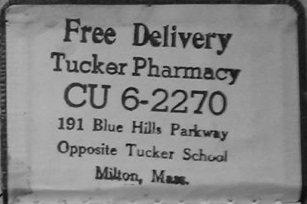 Oak Street Pharmacy (1939)
Tucker Pharmacy (1940-1980)
191 Blue Hills Parkway
July 1, 1939 Oak Street Pharmacy opened at 191 Blue Hills Parkway in a building owned by Mrs. Mary C. Turner. The pharmacy, which had been opposed by the Town, was over-turned by the Court. The following year it was known as the Tucker Pharmacy and was operated under the management of Harry W. Goldman. From 1944 until 1980, under pharmacist Myron J. Levine, it was known as Myron's Tucker Pharmacy. Tucker Pharmacy closed its doors when Levine retired in 1980.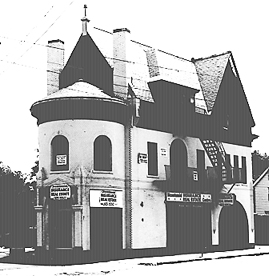 Parkway Pharmacy (1937-1975)
65 & 69 Blue Hills Parkway
The Parkway Pharmacy at 65 Blue Hills Parkway in the Parkway Building, opened in 1937 under pharmacist Joseph M. Mindel. His son Leonard Mindel, who was then a clerk, became a pharmacist in 1941. Leonard left Parkway in 1954 to open Kerrigan's Corner Pharmacy. By 1971 William A. Clark was listed as pharmacist.
The Parkway Building was demolished in 1976 following extensive fire damage. From 1976 to 1978 Parkway Pharmacy was listed at 2 Reedsdale Road where prescriptions could be filled at Palumbo's Brookdale Pharmacy.
The marble soda fountain from Parkway Pharmacy is now in the Sundae School Ice Cream store in Dennisport.
In 1958 ten Milton drug stores were operating: Kerrigan's Corner Pharmacy, Milton Hill Pharmacy, Johnson's Drug, J. J. Hammers, Inc., Hodges Drug, Hanley & Fitz Patrick Pharmacy, Parkway Pharmacy, Tucker Pharmacy, Sher Drug, and Clover Pharmacy! During the 1980s there was a sharp decline in the number of independent drug stores in Milton. By 1986 the Rix Superdrug Store (later acquired by CVS) had opened at 10 Bassett Street…less than 10 years later, it was the only drug store in Milton.